SWH 056
wireless stereo headphone with anc
The Sonodyne SWH 056 is a wireless over-ear headphone with Active Noise Cancellation. This lightweight, and uber comfortable headphone has a host of features. Foremost among them is the sound quality. Be it clarity of vocals, the attack of a snare drum or the definition of bass, the SWH 056 delivers on all counts. The Active Noise Cancellation is very effective and attenuates background noises without effecting sound quality. Battery life extends to over 20 hrs with wireless and ANC on. Connectivity is easy and the controls, intuitive. On board controls allow for track navigation and level control. The inbuilt microphone allows for clear dialogue for conferencing or calls. Be it for work or play the SWH 056 has your ears covered, literally.
Tech Specifications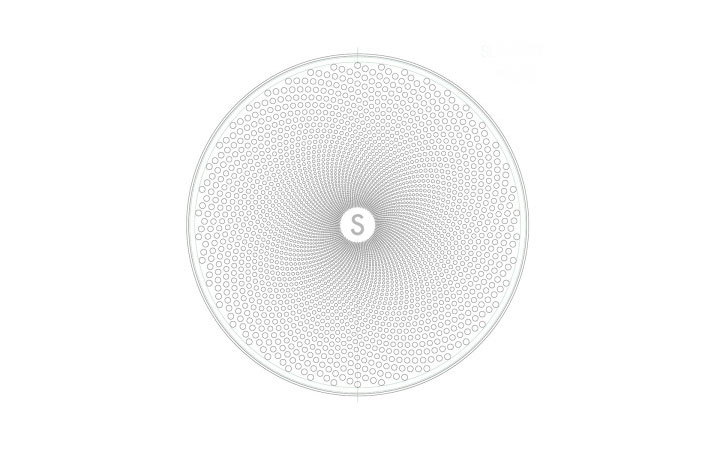 highlights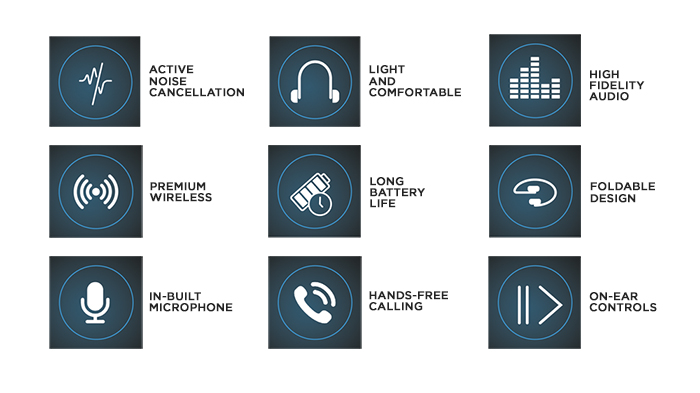 Specifications
DESCRIPTION

Wireless headphone with Active Noise Cancellation

DRIVER TYPE

Dynamic

DRVER SIZE

40mm

FREQ. RESPONSE (SPEAKER. -10dB)

20Hz ~ 22kHz

FREQ. RESPONSE (MIC, -10dB)

70Hz ~ 8kHz

SPL (1kHz)

108dB

THD (1kHz)

<0.5%

WIRELESS CONNECTIVITY

BT V 5.0

CONTROLS

A2DP v1.3.1, AVRCP v1.6, HFP v1.7

BATTERY LIFE

20 hours (BT mode)
16 hours (BT + ANC mode)

CHARGING TIME

2 hours

AUDIO CODEC

SBC, AAC

WEARING STYLE

Over ear

WEIGHT

245g

IN THE BOX

User manual, 1 x USB cable, 1 x line-in cable
NOTE: Due to continuous improvements, all specifications are subject to change
Reviews

Purchased this around a couple of weeks ago. I use this both for music (both standard web and premium services like Spotify) and voice. The ANC is pretty good I feel completely isolated in a place with other people having conversation. Music sound detailed and musical without any processed artefacts. HAve used with rock and jazz, and both sound musical and punches in a fidelity which is pretty good for this price range.

This one beats the Sony WH -1000XM3 hands down. The timing and punch excellent. High end so clear and distinct. Overall very audiophile in dynamic driver side. Congratulations Sonodyne I am a little disappointed with the packaging. Please look at the packaging of HiFiMan, Audeze or any other headphone in the $ 150 - $ 200 range.

Good quality sound and good battery life

I love the comfortable fit of these headphones. I have been using them while I run, and in the rain too!! The headphone sounds great, feels super comfortable. A steal at this price!

These are premium headphones and are available for an absolute bargain at Rs 8999. I have compare them to Sony and Bose noise cancellation and the audio quality is extremely similar to the bigger brands. I have been waiting to own my first Sonodyne product for years and I am so happy they have come out with a headphone I can afford.

I recently purchased the SWH 056 and have been amazed with how comfortable it is. I use it for long durations while working and even after hours of constant use they do not feel uncomfortable. The audio quality is crystal clear and I don't struggle to hear my zoom meetings anymore. Highly recommend this product to everyone.

I am satisfied. The outside noise is taken care and music sounds really cool. Looks good and I think it's a good deal.

I have purchased it from sonodyne dealer at Kolkata with 8.1k & l am extremely satisfied with the performance. I have listened a no. of speakers and headphones so far. Denon around 33k single drum speaker is my first preference within 40k, Bose Companion 50 is the 2nd most beautiful product which l bought at 31k. Now if we expect some headphone within 10k there may be a dozen but they might not the world class products except this one. If you go for Bose you have to be very careful while selecting coz not all headphones have the same quality and those are beyond reach ( above 25k),Still Bose is Bose, but this headphone has some exceptional clarity, bass and modest depth. This is the first choice to those who prefer to listen Rock, Drums loud music and for soothing songs you have to balance your output through equalizer. Now coming to its other technical aspects it is the most updated product with all advantages,Auto noise cancellation, good battery life and connectivity , foldable and have Aux also. If you can go for any Bluetooth headphone within 6-8 k go for it. Sonodyne is the ultimate name in sound production in parallel with Bose and Denon.

These headphones have excellent noise cancellation. I was worried because they weren't priced as high as other noise cancellation headphones and thought the performance may be less than the others but I was extremely surprised once I started using them. These are great and I highly recommend them to anyone wanting great sounding, comfortable headphones ????

I was looking for good sounding headphones with active noise cancellation for my meetings. I auditioned Senheisser, Sony, and Marshall, and they were all quite good. I found the Sonodyne to be quite good for music and excellent for ANC and voice clarity for meetings. I am quite happy with this product and would recommend it if you love listening to music.
write a review
Leave a review
Write your own review
Make an enquiry
Send us a message
Enquiry form