Malhar
high fidelity stereo wireless music system
Tech Specifications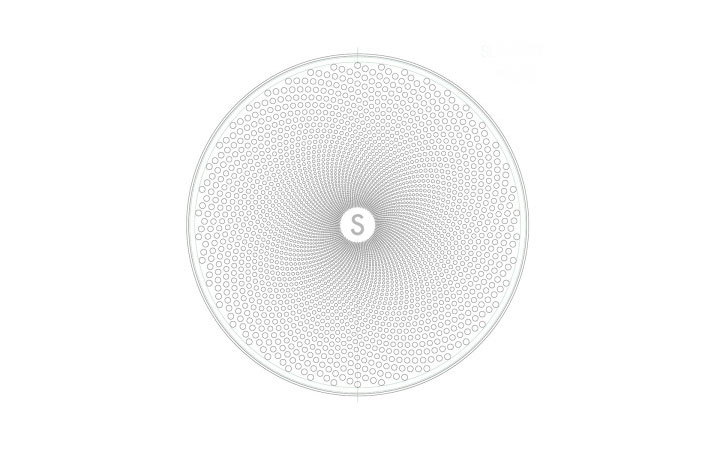 highlights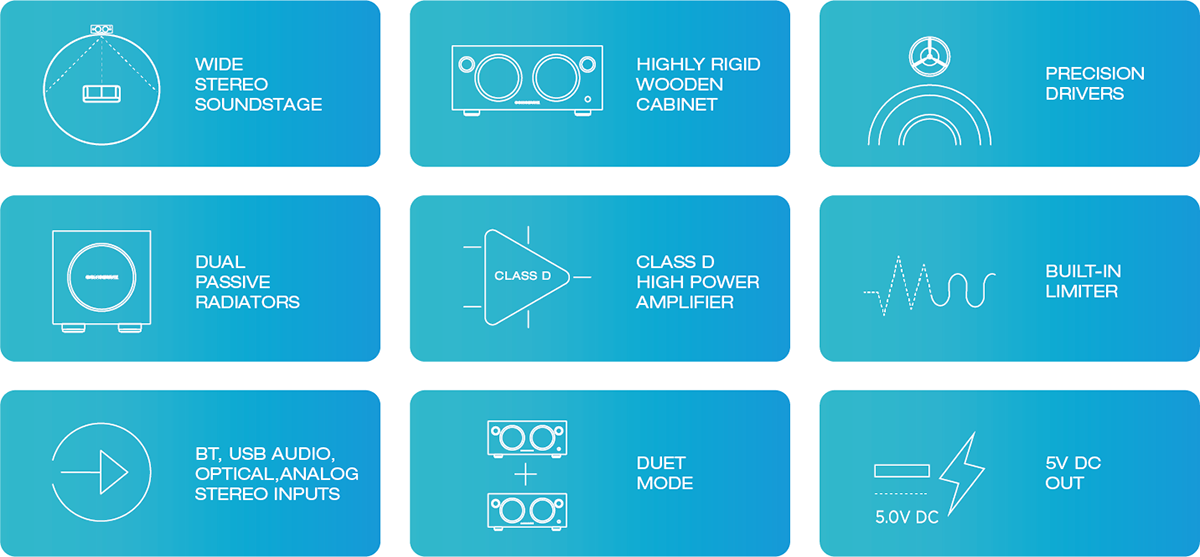 Wide stereo sound-stage: Critical integration of transducer, enclosure, crossover and DSP for high fidelity stereophonic sound.

Highly rigid wooden cabinet: A rigid enclosure allows you to focus on the music, and minimises cabinet vibration.

D Class high power amplifiers: Clarity and loudness result from this lightweight, energy - efficient design.

Glass-fiber cone woofer: Deep bass and clear low mids to give a warm, full sound.

Polycone tweeters: Complete the robust sonics with sparkling highs.

Passive radiators: Specialised acoustic device for low frequency extension and detail

Built-in limiter: Enjoy long hours of clear, distortion-less and fatigue-free sound

Multiple inputs: Bluetooth 5.0, USB Audio, Optical and Analog stereo

Duet Mode: Link two speakers to cater to a wider area

Full-featured infra-red remote control: Control on board or remotely via a the sleek IR remote.
Specifications
DESCRIPTION
Wireless music system
ENCLOSURE
MDF
ENCLOSURE TYPE
Bass reflex, vented
TRANSDUCERS

2 x 5" Glass-fiber cone woofer
2 x 5" Passive Radiator
2 x 1" Neodymium magnet silk-dome tweeter

INPUTS - ANALOG
AUX (stereo unbalanced input)
INPUTS - DIGITAL
Optical, USB audio, BT stereo
CONTROLS & SWITCHES (TOP, TACT SWITCH)
Standby power
Volume up/down cum track forward/ reverse for USB audio
Input select - 4 switches for 4 inputs
Play/Pause for USB audio
CONTROLS & SWITCHES (REAR)
Rocker type power switch for mains power
INDICATORS (TOP, LED)
Standby power
Volume up/down cum track forward/ reverse for USB audio
Input select - 4 switches for 4 inputs
Play/Pause for USB audio
OTHERS
5V DC OUT through USB socket, for charging
REMOTE CONTROL
IR type remote control with hand-held remote control unit
Keys - Standby, Volume Up/Down, Mute, Input Selection (4 keys)
OUTPUT POWER
180 watt
THD + NOISE
0.3% max at rated power
ACOUSTIC FREQUENCY RESPONSE (-6dB)
40Hz ~ 20kHz
AMPLIFIER TYPE
Class D
MAX SPL AT 1M
106dB
POWER SUPPLY TYPE
SMPS
MAINS OPERATING VOLTAGE RANGE
90 - 264 volt AC
FINISH
Natural wood veneer, semi-gloss white/black/red paint
GRILL
Metal mesh for woofer and tweeter
DIMENSIONS (WXHXD) MM
424 x 181 x 190
NET WEIGHT
8kg
GROSS WEIGHT
8.5kg
NOTE: Due to continuous improvements, all specifications are subject to change
MORE ABOUT THE PRODUCT
Today, music is on the cloud, accessible on phone, tablet, PC, or TV. There is continuous improvement in streaming quality. To reproduce this vast library in high fidelity, we present powered loudspeakers, featuring:
TRANSDUCERS:
Glass-fibre cone woofers have low resonance frequency and large cone excursion. This allows for subwoofer-like low frequency response, along with the inherent benefits of minimal cone break-up and low distortion resulting in mids with excellent dynamics.
Passive radiators, capable of high excursion, eliminate the problem of power compression and port chuffing associated with vents.
Silk-dome tweeters, with extended high frequency response and low resonance frequency - results in a wide soundstage with crystal-clear highs. Neodymium magnets are used for low distortion at high listening levels. The magnet is heat-sink-cooled so it can handle high duty-cycle signals as in heavy metal, or club music. The low resonance frequency allows for optimum directivity matching with woofer, resulting in a smooth and wide dispersion.
DSP:
In-built DSP equalisation allows our engineers to objectively measure and then tune the system to achieve a linear frequency response. Additionally, it also protects against input overdrive.
AMPLIFIER:
2-channel Class D amplifiers provide ample power to drive the transducers without distortion. SMPS with regulated supply ensures that the amplifier never runs out of steam at low frequencies, where energy demand is highest.
ENCLOSURE:
The enclosure is made of thick MDF. Our scientifically designed bracing technique shifts panel resonance to a higher frequency where they are absorbed by special coating on the enclosure walls. This reduces cabinet vibration at low frequency, resulting in tight, deep bass.
Look no further. There is a Sonodyne powered loudspeaker for your evolved sound need.
Duet Mode
Link two Malhar speakers using this mode to cater to a wider area

STEP 1
Power on unit 1 and unit 2. (Turn system on with the rocker type power switch at rear. Press power button on keyboard)

STEP 2
Select Bluetooth (BT) through keyboard or remote.
Next long press BT button on keyboard of unit 1 till the standby power LED flashes. The Bluetooth LED (BT) will also flash.

STEP 3
Repeat above procedure for unit 2

STEP 4
After a few seconds, the standby power LED in both the units will become steady. The Bluetooth LED (BT) in one unit will become steady. This is the slave unit. The Bluetooth LED (BT) on the other will continue to flash. This is the master unit. This indicates that unit 1 has been paired to unit 2.

STEP 5
Pair your phone or other Bluetooth audio source to unit 2. The Bluetooth LED (BT) on the master unit will become steady after pairing.

To exit duet mode, simply switch off the unit with the power switch at the rear
Reviews

Sonodyne is the age old Indian loudspeaker brand of the 80s and 90s that we grew up listening to vinyl and tapes. Known for excellent build quality and exceptional sonic performance, these loudspeakers delivered rich studio-like sound without breaking the bank. In todays era of synthetic bass and tinny treble emanating from plastic loudspeakers, the Malhaar truly stands out! Vintage sound quality with the convenience of playing your favorite streaming service, I was truly blown away by the richness and clarity of sound. Like an excited kid, I played through my favorites and found the same timbre and tonality as expected from a studio monitor! Grab one before it sells out!

Connected it to my Phone in the hall and played the 1st song.. And man I was in Awe. Continuing the legacy of Sonodyne, the speaker didn't fail impress. The highs are sharp, mids are crystal clear and lows are thumping. No distortion at any volume. Plus what I loved about is its simplicity. No complicated process to setup and the speaker knows what to do without your help. I ended up listenening to it the whole day. The Wooden built and premium looks complements the interior of my house AWESOME.

During my School Days I used to listen to a Tape Recorder, After that, didn't find anything to enjoy music, Having the Sonodyne Malhar, is like that Having my Childhood Back, Thank You Sonodyne.

Sonodyne just launched its latest speakers - the Sonodyne Malhar. The name Malhar is based on Raga Malhar, believed to have the power to evoke thunder and rain. Sonodyne speakers are used by some of the world's most respected studios and concert venues. What makes them so unique and globally appealing? We find out.
write a review
Leave a review
Write your own review
Make an enquiry
Send us a message
Enquiry form