Bandish
high fidelity stereo wireless music system
In Hindustani classical music, when multiple instruments play together, it is called Bandish. This section, filled with melody and varying dynamics, forms the body of the performance..
The Sonodyne Bandish is a high power wireless speaker that handles raga to rock with equal dexterity. It can reproduce quiet emotional detail and high energy rhythms whenever called upon to do so.
Our new range of powered speakers are designed to reproduce digital audio in high fidelity. Today there is readily available musical content on the cloud, which can be accessed through your phone, tablet, PC, or TV. There has been significant improvement in streaming content and quality. To effectively reproduce this vast library, the need arises for high quality loudspeakers.
Our powered loudspeakers are engineered to reproduce high quality sound while minimising distortion and ear fatigue. The wooden cabinet is rigid and highly braced. This results in minimised vibration. The transducers in conjunction with elaborate crossovers are designed for wide frequency bandwidth response, both on and off axis. The amplifiers are high efficiency, low noise Class D. The entire system is DSP balanced, resulting in effortless sonic reproduction and a wide stereo soundstage.
So if you are looking for endless hours of distortion-free music, look no further. There is a Sonodyne Bandish powered speaker for your evolved sound need.
Tech Specifications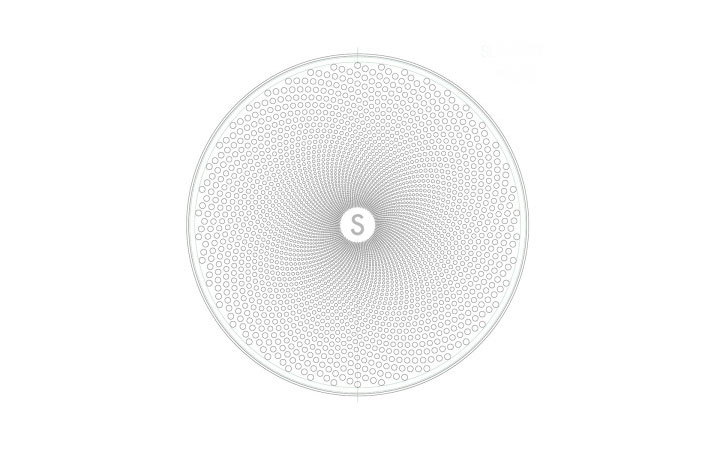 highlights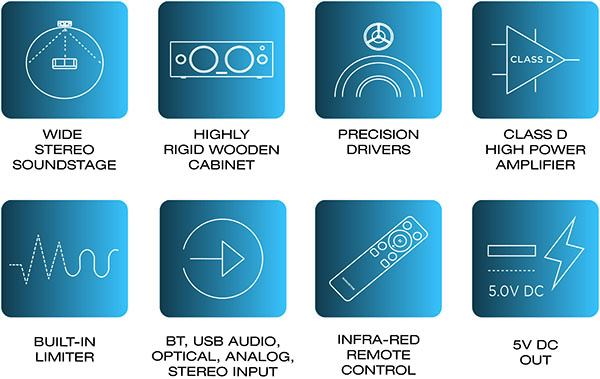 Wide stereo sound-stage: Critical integration of transducer, enclosure, crossover and DSP for high fidelity stereophonic sound.

Highly rigid wooden cabinet: A rigid handmade enclosure allows you to focus on the music, and minimises cabinet vibration.

D Class high power amplifiers: Clarity and loudness result from this lightweight, efficient design.

Glass-fiber cone woofer: Deep bass and clear low mids to give a warm, full sound.

Polycone tweeters: Complete the sonics with sparkling highs.

Built-in limiter: Enjoy long hours of clear, distortion-less and fatigue-free sound

USB Audio, Optical and Analog stereo input, other than BT: A host of connections to maximise access to your musical content

Full-featured infra-red remote control: Control on board or remotely via a the sleek IR remote.


Specifications
DESCRIPTION
Powered tabletop stereo speaker
ENCLOSURE
MDF
ENCLOSURE TYPE
Bass reflex, vented
TRANSDUCERS
2 x 4" woofer, 2 x 1/2" tweeter
INPUTS - ANALOG
AUX (stereo unbalanced input)
INPUTS - DIGITAL
Optical, USB audio, BT stereo
CONTROLS & SWITCHES (TOP, TACT SWITCH)
Standby power
Volume up/down cum track forward/ reverse for USB audio
Input select - 4 switches for 4 inputs
Play/Pause for USB audio
CONTROLS & SWITCHES (REAR)
Rocker type power switch for mains power
INDICATORS (TOP, LED)
Standby power
Volume up/down cum track forward/ reverse for USB audio
Input select - 4 switches for 4 inputs
Play/Pause for USB audio
OTHERS
5V DC OUT through USB socket, for charging
REMOTE CONTROL
IR type remote control with hand-held remote control unit
Keys - Standby, Volume Up/Down, Mute, Input Selection (4 keys)
AMPLIFIER POWER
2 x 40 watt RMS, before clipping
THD + NOISE
0.3% max at rated power
ACOUSTIC FREQUENCY RESPONSE (-6dB)
45Hz ~ 20kHz
AMPLIFIER TYPE
Class D
POWER SUPPLY TYPE
SMPS
MAINS OPERATING VOLTAGE RANGE
90 - 264 volt AC
FINISH
Natural wood veneer
GRILL
Metal mesh covered with black grill cloth for woofer and tweeter
DIMENSIONS (WXHXD) MM
393 x 144 x 166
NET WEIGHT
5.2kg
GROSS WEIGHT
6.5kg
NOTE: Due to continuous improvements, all specifications are subject to change
Reviews

Not only does the Bandish look classy, it packs a PUNCH!!! After playing it at some gatherings with friends and family, everyone was shocked at the superior sound quality and were amazed that an Indian company was manufacturing this beast. I am pretty sure some of my friend's and family will be buying this speaker soon. Well done Sonodyne!

Having grown up with Sonodyne products when I was younger, I always had a dream to equip my home with Sonodyne audio systems. I have finally managed to get my hands on the Bandish, a product I have been waiting for. It fits perfectly onto my table top and sounds phenomenal. Music has never sounded so good! It is a personal matter of pride also that I am supporting a truly make in India company. Their products truly do make India proud. Keep it up Sonodyne!
write a review
Leave a review
Write your own review
Make an enquiry
Send us a message
Enquiry form