Alaap
high fidelity stereo wireless music system
In Hindustani classical music, the beginning of a performance is called Alaap. This section intricately defines the melodic framework, or raga, and, through improvisation and dynamics, sets the mood for the performance. The Sonodyne Alaap powered speaker is an introduction to our range of high fidelity wireless speakers. Disarmingly detailed and powerful, it is designed to faithfully reproduce an artist's musical creation. Our new range of powered speakers are designed to reproduce digital audio in high fidelity. Today there is readily available musical content on the cloud, which can be accessed through your phone, tablet, PC, or TV. There has been significant improvement in streaming content and quality. To effectively reproduce this vast library, the need arises for high quality loudspeakers. Our powered loudspeakers are engineered to reproduce high quality sound while minimising distortion and ear fatigue. The wooden cabinet is rigid and highly braced. This results in minimised vibration. The transducers in conjunction with elaborate crossovers are designed for wide frequency bandwidth response, both on and off axis. The amplifiers are high efficiency, low noise Class D. The entire system is DSP balanced, resulting in effortless sonic reproduction and a wide stereo soundstage. So if you are looking for endless hours of distortion-free music, look no further. There is a Sonodyne Alaap powered speaker for your evolved sound need.
Tech Specifications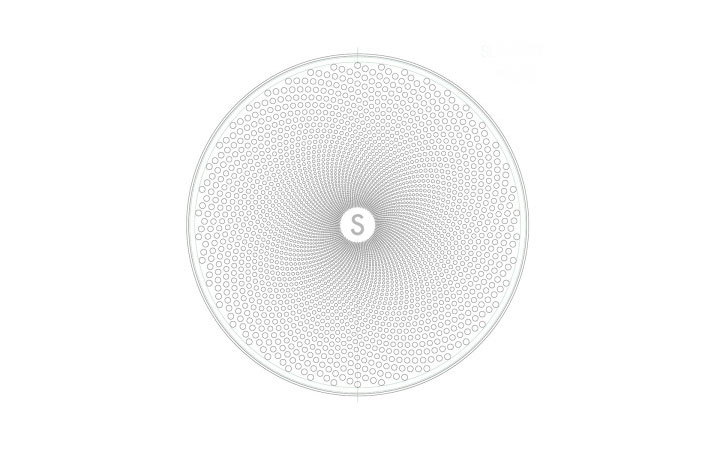 highlights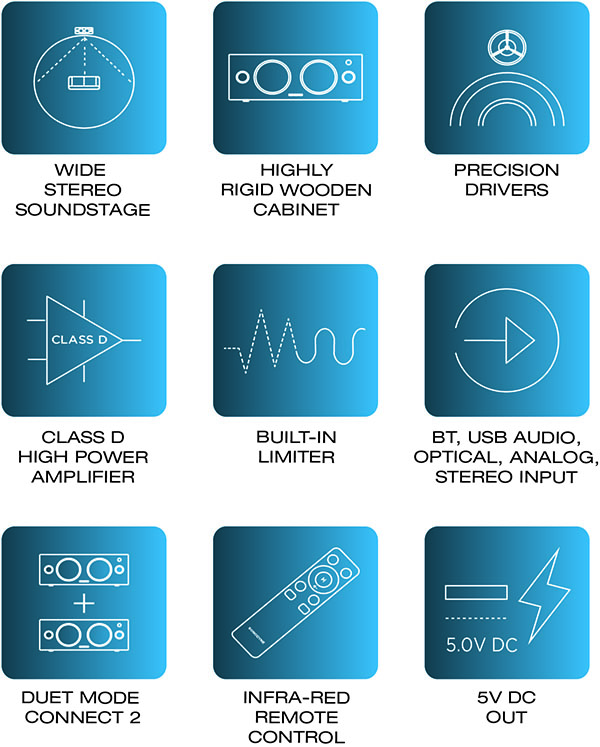 Wide stereo sound-stage: Critical integration of transducer, enclosure, crossover and DSP for high fidelity stereophonic sound.

Highly rigid wooden cabinet: A rigid handmade enclosure allows you to focus on the music, and minimises cabinet vibration.

D Class high power amplifiers: Clarity and loudness result from this lightweight, efficient design.

Glass-fiber cone woofer: Deep bass and clear low mids to give a warm, full sound.

Polycone tweeters: Complete the sonics with sparkling highs.

Built-in limiter: Enjoy long hours of clear, distortion-less and fatigue-free sound

USB Audio, Optical and Analog stereo input, other than BT: A host of connections to maximise access to your musical content

Duet Mode: Link two Alaap/ Bandish speakers using this mode to cater to a wider area

Full-featured infra-red remote control: Control on board or remotely via a the sleek IR remote.
Specifications
DESCRIPTION
Powered tabletop stereo speaker
ENCLOSURE
MDF
ENCLOSURE TYPE
Bass reflex, vented
TRANSDUCERS
2 x 3" woofer, 2 x 1/2" tweeter
INPUTS - ANALOG
AUX (stereo unbalanced input)
INPUTS - DIGITAL
Optical, USB audio, BT stereo
CONTROLS & SWITCHES (TOP, TACT SWITCH)
Standby power
Volume up/down cum track forward/ reverse for USB audio
Input select - 4 switches for 4 inputs
Play/Pause for USB audio
CONTROLS & SWITCHES (REAR)
Rocker type power switch for mains power
INDICATORS (TOP, LED)
Standby power
Volume up/down cum track forward/ reverse for USB audio
Input select - 4 switches for 4 inputs
Play/Pause for USB audio
OTHERS
5V DC OUT through USB socket, for charging
REMOTE CONTROL
IR type remote control with hand-held remote control unit
Keys - Standby, Volume Up/Down, Mute, Input Selection (4 keys)
OUTPUT POWER
80 watt
THD + NOISE
0.3% max at rated power
ACOUSTIC FREQUENCY RESPONSE (-6dB)
60Hz ~ 20kHz
AMPLIFIER TYPE
Class D
MAX SPL AT 1M
98dB
POWER SUPPLY TYPE
SMPS
MAINS OPERATING VOLTAGE RANGE
90 - 264 volt AC
FINISH
Natural wood veneer
GRILL
Metal mesh covered with black grill cloth for woofer and tweeter
DIMENSIONS (WXHXD) MM
355 x 127 x 144
NET WEIGHT
3.6kg
GROSS WEIGHT
5kg
NOTE: Due to continuous improvements, all specifications are subject to change
Duet Mode
Link two Alaap/ Bandish speakers using this mode to cater to a wider area
Can work with any of these combinations
• Alaap + Alaap
• Bandish + Bandish

STEP 1
If the serial number of your set is. before 027800144 for Alaap and before 027900138 for Bandish, you need to update the firmware first. Please download the firmware (links given below*) onto a pen drive.
Please ensure there is no other file in the pen drive.
Turn system on with the rocker type power switch at rear. Press power button on keyboard. Insert the pen drive into the "USB" marked slot at the rear of both units (Alaap/Bandish). You will hear a tone when the pen drive is inserted. Note: it does not matter which input is selected while inserting the pen drive.
After a few seconds, all the LEDs on the top panel will blink and the unit will enter standby mode (standby LED will glow). This indicates that the firmware has been updated. Remove pen drive and switch on the unit with standby button on keyboard or remote.
For units with Serial no.s outside those mentioned above, Step 1 is not required
STEP 2
Power on unit 1 and unit 2. (Turn system on with the rocker type power switch at rear. Press power button on keyboard)

STEP 3
Select Bluetooth (BT) through keyboard or remote.
Next long press BT button on keyboard of unit 1 till the standby power LED flashes. The Bluetooth LED (BT) will also flash.

STEP 4
Repeat above procedure for unit 2

STEP 5
After a few seconds, the standby power LED in both the units will become steady. The Bluetooth LED (BT) in one unit will become steady. This is the slave unit. The Bluetooth LED (BT) on the other will continue to flash. This is the master unit. This indicates that unit 1 has been paired to unit 2.

STEP 6
Pair your phone or other Bluetooth audio source to unit 2. The Bluetooth LED (BT) on the master unit will become steady after pairing.

To exit duet mode, simply switch off the unit with the power switch at the rear

FIRMWARE
Please download onto a pen drive.
Please ensure there is no other file on the pen drive
Reviews

The brand Sonodyne is nostalgic as it was the first system I bought 35 years back. So couldn't resist to buy this entry level speaker more as a memento. Liked the retro look as well. Plays very well - good value for money.

Bought the product more for nostalgia and the wooden box design. The sound quality is okay but that's what one can expect from a product of this price range. Overall satisfied.

A sturdy product. Beautiful wooden build and pristine sound. I love listening to it and I love looking at it. Thank you.

After having demo'd several bluetooth speakers, I happened to come across this new retro looking speaker from Sonodyne at Starmark Kolkata. Having grown up with Sonodyne, I was expecting the sound would be extremely detailed and balanced and I was extremely happy that turned out to be the case. The Alaap now sits in my living room and is definitely the new centre of attraction.
write a review
Leave a review
Write your own review
Make an enquiry
Send us a message
Enquiry form