Tech Specifications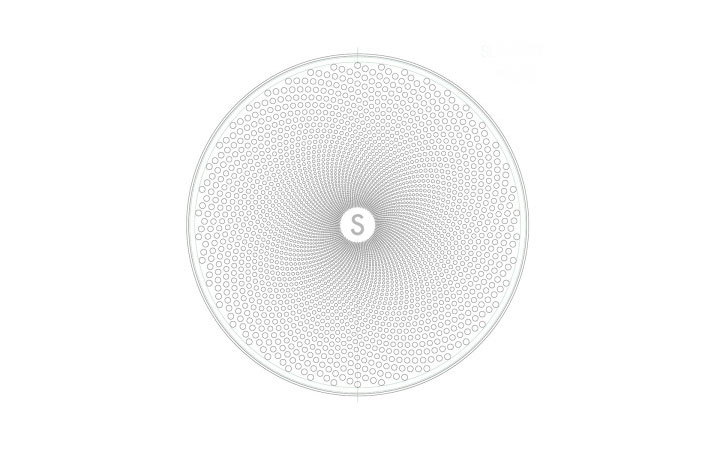 highlights
Front firing design
12" high excursion transducer
300 watt @ .1 % THD, Class D
Rear ported
Unique front baffle design
Specifications
| | |
| --- | --- |
| DESCRIPTION | Front firing powered subwoofer, vented |
| TRANSDUCER COMPLEMENTS | 1 x 12" high excursion subwoofer |
| AMPLIFIER CLASS | Class D |
| AMPLIFIER POWER | 300 W |
| AMPLIFIER THD | 0.1% at rated power |
| MAX SPL | 116 dB |
| FREQUENCY RESPONSE | 25 Hz (-3 dB) |
| FREQUENCY EXTENSION (-10 dB) | 24 Hz |
| LOW PASS FILTER | 50 Hz ~ 150 Hz |
| PHASE | Switchable: 0 degrees and 180 degrees |
| INPUTS | Left and Right unbalanced RCA type |
| INPUT SENSITIVITY | 150 mV at level control max |
| CONTROLS | Level control, frequency control |
| FINISH | Front: Ash; Outer skin: Option of Black ash or Rosewood |
| DIMENSIONS (HxWxD) mm | 390 x 390 x 514 |
| POWER CONSUMPTION | 400 W Max. |
| NET WEIGHT | 29 kg |
| IN THE BOX | Mains cord, user's manual, Screw-on spike, disc and tightening lever |
NOTE: Due to continuous improvements, all specifications are subject to change
SUBWOOFER SET-UP
Low frequencies below 150 Hz are omni-directional; that is, they seem to come from all directions. Hence it would not be possible to locate the subwoofer no matter where it is placed in your room. This, however, does not necessarily mean that the placement of the subwoofer is not critical. Each room, depending on its shape and dimensions, has a number of resonant frequencies that react with each other. Thus, the level of perceived bass may vary across a room depending on where source of sound is placed.
Suggestions on placement are given in the Figures below. It is important to note that every reflecting surface increases the low frequency level by 3 dB. Hence, when you place your subwoofer up against a wall, you get a higher level of low frequencies than when it is placed further away from any wall. Similarly, when you place it in a corner, the three reflecting surfaces further increase the level. However, this may result in uneven distribution of bass across your room, as discussed before. Hence, experiment with the placement and monitor its bass while sitting at your favorite listening spot. It may take a while before you finally arrive at the optimum location.
One experiment that usually works is this. Start out by placing your subwoofer where your favourite listening spot is (you will have to take the trouble of vacating your armchair, but only briefly!) Then, turn on your subwoofer and move across the room to find a spot where bass response is best. This is the optimal position of your subwoofer with reference to your favourite listening spot.
ACOUSTICS OF THE LISTENING ROOM
The acoustical makeup of your listening room is key in determining how good (or bad) is the sound that reaches your ear. The contents of a room (carpets, curtains, furniture etc.), its shape, and the material of which the boundaries are made, make or break your sound. The idea is to have a listening area where the absorptions and reflections are calibrated to attain, as far as possible, a neutral environment. While there are no 'quick fix' formulae to convert a room to an 'ideal listening room', here are some things that you might try to attain optimal performance.
In your listening room, clap your hands, snap your fingers, and jingle a ring of keys. If the resulting sound is unintelligible (muffled), and resonating, your room is inclined toward being reflective. In this event, you might want to: Hang up curtains/ lay a carpet or rug / introduce book cases/ other racks. In the event that the resulting sound is too damped your room is inclined toward being absorptive. You might want to remove some of the absorptive material (like those given above).
Reviews

'It is very important to me that the music that I listen to comes out as organically as possible ... I have found Sonodyne sound to be clear"

write a review
Leave a review
Write your own review
Make an enquiry
Send us a message
Enquiry form