Micro 3002
satellite speaker
The Micro 3002 is a satellite speaker meant for the centre channel, primarily. The enclosure is ABS (moulded plastic) that gives the Micro a unique shape that blends into your living space. The 3002 can be used as LCR channels also for music and multichannel audio. The products are sold separately or as part of the Micro HTS. You may install the Micros using the keyhole slot or with universal brackets (included). So if you are looking for high quality music or cinema sound experience in your premium space, choose the new Micro from Sonodyne
Tech Specifications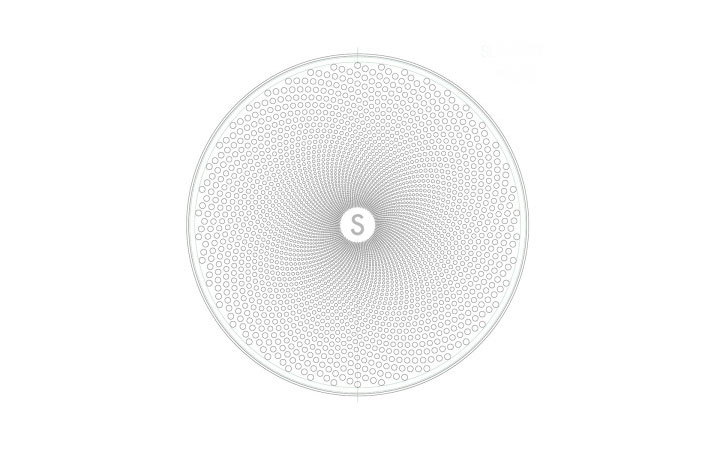 highlights
ABS moulded cabinet
Custom 3" low-mid and 1" HF transducer in D Appolito configuration
2 way design, with detailed response
Can be used for music and multichannel audio
Wall mount included
Specifications
| | |
| --- | --- |
| DESCRIPTION | 2 way speaker , ported |
| ENCLOSURE | ABS |
| TRANSDUCER COMPLEMENTS: HF | 0.5 inch polycone tweeter |
| TRANSDUCER COMPLEMENTS: LF | 2 x 3 inch woofer |
| RECOMMENDED AMPLIFIER POWER | 40 - 120 watt |
| NOMINAL IMPEDANCE | 8 Ohm |
| SENSITIVITY (1 W 1M) | 90 dB |
| FREQUENCY RESPONSE (-3 dB) | 100Hz - 20kHz |
| FREQUENCY RANGE (-10 dB) | 70Hz - 22kHz |
| CROSSOVER FREQUENCY | 3.5 kHz |
| INPUTS | Binding post |
| COLOURS | Black / White |
| DIMENSIONS (HXWXD) | 100 mm x 261 mm x 100 mm |
| NET WEIGHT | 1.3 kg |
| MOUNTING OPTIONS | Wall mount bracket (inlcuded) |
| PACKED IN | Single |
NOTE: Due to continuous improvements, all specifications are subject to change
SURROUND SOUND SET-UP
The following sketch shows a 5.1 set-up. It is recommended to have a symmetrical listening position with the front left and right speakers facing the listener and the surround speakers located at the back of the listener.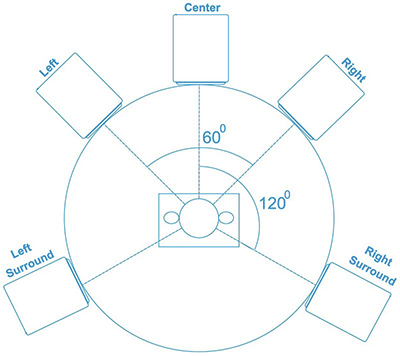 ACOUSTICS OF THE LISTENING ROOM
The acoustical makeup of your listening room is key in determining how good (or bad) is the sound that reaches your ear. The contents of a room (carpets, curtains, furniture etc.), its shape, and the material of which the boundaries are made, make or break your sound. The idea is to have a listening area where the absorptions and reflections are calibrated to attain, as far as possible, a neutral environment. While there are no 'quick fix' formulae to convert a room to an 'ideal listening room', here are some things that you might try to attain optimal performance.
In your listening room, clap your hands, snap your fingers, and jingle a ring of keys. If the resulting sound is unintelligible (muffled), and resonating, your room is inclined toward being reflective. In this event, you might want to: Hang up curtains/ lay a carpet or rug / introduce book cases/ other racks. In the event that the resulting sound is too damped your room is inclined toward being absorptive. You might want to remove some of the absorptive material (like those given above).
Reviews

'It is very important to me that the music that I listen to comes out as organically as possible ... I have found Sonodyne sound to be clear"


Indian Hi-Fi Sound landscape is changing rapidly with Make in India products from country's finest music brand, Sonodyne. Sonodyne has been very popular brand for Studio Monitors across the globe since many decades, and in the last 5 years the company has been aggressively venturing in the Home Cinema markets Nationally as well as Internationally. It seems that they are now revamping their Prime Residential series collection with some more products at amazing prices. One such package, Sonodyne Micro Series 5.1 has just made the Debut last month. And we have recently auditioned it in our experience center.
Sonodyne Micro 5.1 Home Theater | Honest Review & Demo | Best Made in India Home Theater under 50000

write a review
Leave a review
Write your own review
Make an enquiry
Send us a message
Enquiry form