IWO 511
2 1/2 way, vented on-wall/in-wall speaker
The IWO 511 is a great sounding slim speaker that employs a 2.5 way crossover to get detailed, full bodied sound. For medium sized rooms this is an ideal on / in wall speaker
Tech Specifications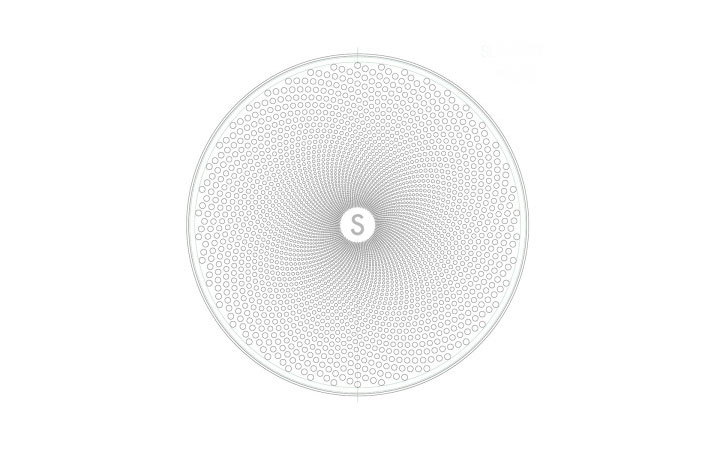 highlights
Shallow profile
2.5 way design
On/in wall easy mounting
Room-filling immersive performance
Magnetic grill
2 colours: Black/ White
Specifications
| | |
| --- | --- |
| DESCRIPTION | 2 1/2 way, vented on-wall/in-wall speaker |
| ENCLOSURE | MDF |
| TRANSDUCER COMPLEMENTS: HF | 1" dome tweeter |
| TRANSDUCER COMPLEMENTS: LF | 2 x 3" woofer |
| RECOMMENDED AMPLIFIER POWER | 60 ~ 100 W |
| NOMINAL IMPEDANCE | 8 Ohm |
| SENSITIVITY (1 w 1m) | 83 dB |
| FREQUENCY RESPONSE (-3 dB) on axis | 75 Hz ~ 20 kHz |
| FREQUENCY EXTENSION (-10 dB) | 65 Hz ~ 22 kHz |
| CROSSOVER FREQUENCY | 970 Hz, 2.3 kHz |
| INPUTS | Gold plated binding post |
| FINISH | Colour options: semi gloss white / black |
| DIMENSIONS (HxWxD) mm | 500 x 220 x 98 |
| NET WEIGHT | 5 kg |
| IN THE BOX | User manual, grill |
| ACCESSORIES | In wall mounting kit (separate) |
NOTE: Due to continuous improvements, all specifications are subject to change
STEREO SET-UP
The following sketch shows an optimum set-up for a stereo system. The important part here is to place the speakers such that the head of the listener and the two monitors lie at the vertices of an equilateral triangle.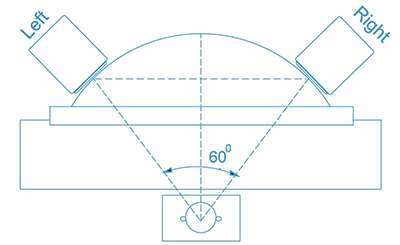 SURROUND SOUND SET-UP
The following sketch shows a 5.1 set-up. It is recommended to have a symmetrical listening position with the front left and right speakers facing the listener and the surround speakers located at the back of the listener.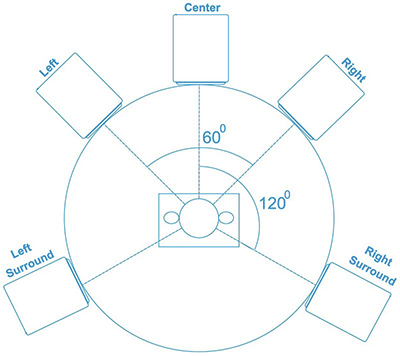 Distance from walls
While placing speakers, make sure that they are at least 40 cm away from any reflecting surface. This will help minimise bumps in the low-frequency response due to reflections, and also ensure that the rear-mounting port is unobstructed. It is also required to ensure that the heat sinks at the back have adequate ventilation, for uninterrupted operation.
ACOUSTICS OF THE LISTENING ROOM
The acoustical makeup of your listening room is key in determining how good (or bad) is the sound that reaches your ear. The contents of a room (carpets, curtains, furniture etc.), its shape, and the material of which the boundaries are made, make or break your sound. The idea is to have a listening area where the absorptions and reflections are calibrated to attain, as far as possible, a neutral environment. While there are no 'quick fix' formulae to convert a room to an 'ideal listening room', here are some things that you might try to attain optimal performance.
In your listening room, clap your hands, snap your fingers, and jingle a ring of keys. If the resulting sound is unintelligible (muffled), and resonating, your room is inclined toward being reflective. In this event, you might want to: Hang up curtains/ lay a carpet or rug / introduce book cases/ other racks. In the event that the resulting sound is too damped your room is inclined toward being absorptive. You might want to remove some of the absorptive material (like those given above).
AMPLIFIER SELECTION
We recommend using amplifiers whose continuous (rms) power per channel is greater than or equal to that the Sonus handles. We have specified an amplifier power range in the specifications section. In the event that the power is greater, care must be taken to avoid playing music at excessively loud levels and thus damage the speaker. Also, while using an amplifier with rms power lower than the rated power handling of the Sonus, please ensure that the amplifier level is kept a few notches below maximum level. Lower powered amplifiers, operating at close to max, often produce distorted signals at high levels. This can lead to damage of the high frequency driver, the tweeter
Reviews

'It is very important to me that the music that I listen to comes out as organically as possible ... I have found Sonodyne sound to be clear"

write a review
Leave a review
Write your own review
Make an enquiry
Send us a message
Enquiry form